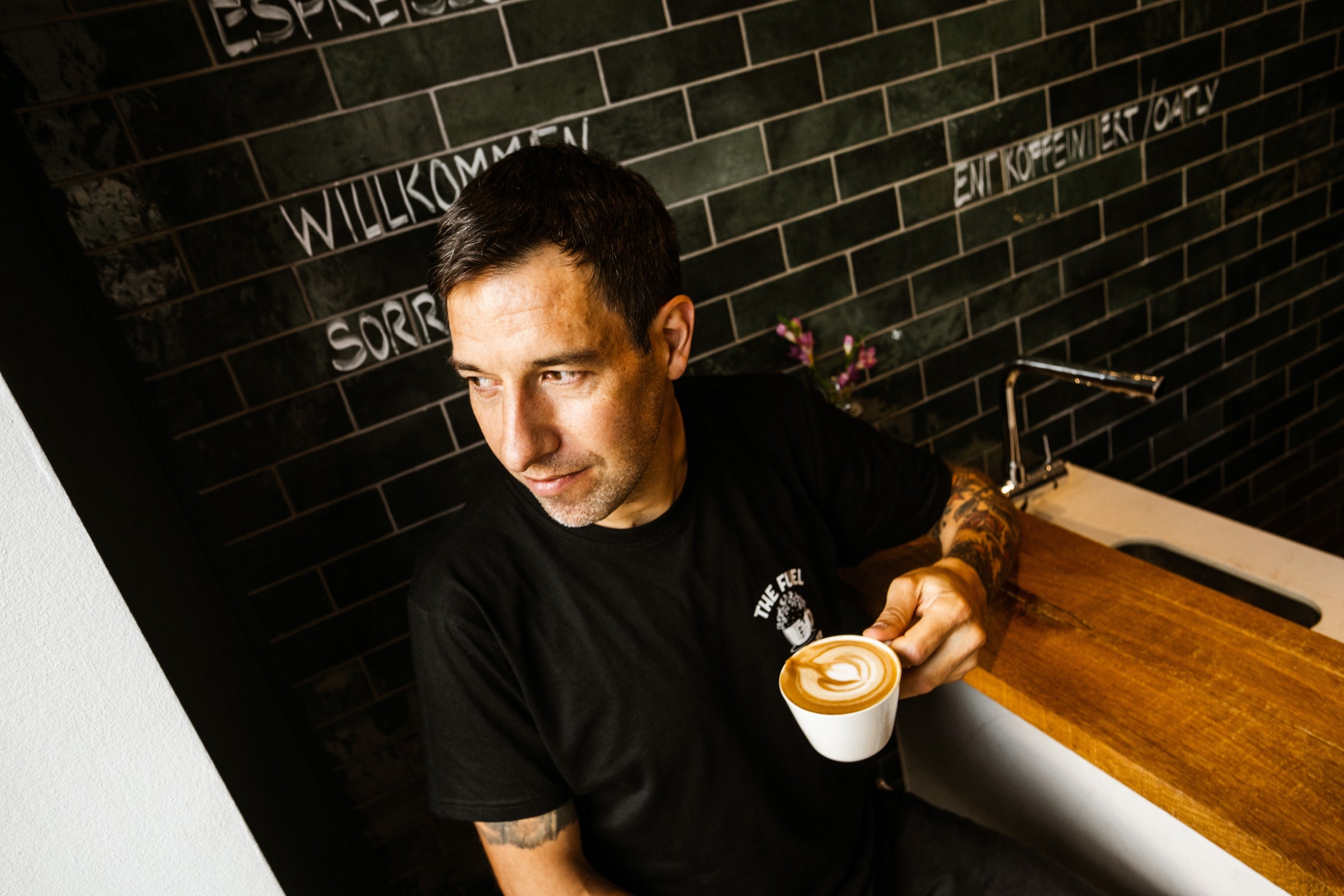 Drink Coffee - Run Faster
Yes, we made our own coffee. It is called "The Fuel" and is roasted by our friends at Schwarzmahler from Stuttgart, Germany. It's a directly traded 100% Arabica blend, suitable for all coffee pleasures, from Portafilter Espresso Machines to French Press.
What does coffee have to do with running? Everything. Both are about enjoying the simple things in life. And we also created a T-Shirt.
About "The Fuel" Coffee
Bean
100% Arabica (Caturry, Catuai, Parainema, Icatú and Obata grown at 1300-1750m)
Origin
Pacha Mana (Peru) - Finca Esmeralda (Honduras)
Responsibility
Directly traded coffee, fair payment and sustainable (bio certified at country of origin)
Taste
Very subtle acidity. Rather light and fresh for such a dark roast. Complex structures with notes of dark berries and exciting, opposite tastes. Prolonged mouthfeel.
Preparation
Suitable for all Coffee Makers (Stove pot, Portafilter, French Press, Filter, Cold Brew)
Storage
Store in a dry and airtight container. Avoid air, moisture, heat, and light
Life is too short for "cruel-coffee"
About Schwarzmahler
Schwarzmahler is a socially committed coffee roaster and shop from Stuttgart, Germany. Their coffee is directly traded and ecologically sustainable. Schwarzmahler have a great mindset and simply love what they do.
Find Out More
For Bialetti / stove pot preparation we recommend a medium-fine grind. Medium-fine feels gritty when rubbed between your fingers, not powdery.
For French Press and Filter Coffee preparation grind it as coarse as breadcrumbs.
For Portafilter Espresso Machines (Siebträger) the beans should be very finely ground.
Fill the base with water to just below the level of the safety valve. Insert the funnel. Loosely fill the funnel with "The Fuel" ground coffee (medium-fine grind).Do not tamp coffee down. Remove any coffee grounds on the edge of the funnel. Screw the top section firmly to the base. Place the coffeemaker on a low to medium heat. It takes only 3 to 6 minutes, depending on the size of the coffeemaker and the intensity of heat, until it's ready to serve. Turn down or remove from the heat once the coffee pot starts to fill up. Do not allow to boil and do not put on full heat as this may cause the coffee to have a burnt taste. If you hear that typical "booouuchcccccaazzzzzzzzz" noise, you've done it wrong and your coffee is most likely burnt.
Warm up your empty French Press by rinsing it with very hot water. Put one coffee spoon of "The Fuel" coffee (coarse grind) per cup into the French Press and add hot (not boiling) water. Wait for 1 minute then stir. After 4 minutes: press. That's it.
Use 8-9g "The Fuel" coffee (fine grind) for a single espresso and 19-20g for a double espress, depending on how your grinder works. Tamper the coffee with ca. 15kg and prefuse it, if your coffee machine supports this function. If you've done everything right your coffee pours out very viscous (like motor oil). Stop after 28-3s. Of course you can play around with these standard guidelines for different tastes.
We recommend oat milk or soy milk. You can also use almond, coconut or rice milk, but they have a strong original taste that competes with the taste of your coffee.
The foam of oat milk is very thick and firm. It has few bubbles. The foam tastes full, creamy, and neutrally sweet.
The foam of soy milk is firm, but often airy with some bubbles. The foam tastes sweet, full, and a little bit creamy.
Store in a dry and airtight container. Avoid air, moisture, heat, and light.
We recommend a single espresso or medium cup of "The Fuel" coffee before heading out for a run. The caffeine will spark your senses and put you in an extended level of alertness. Of course, it also tastes good and will make you happy. It's gonna be a great run!